Configurable Products use Simple Details for Magento 2
68.5
Details
Magento 2 Configurable Products use Simple Details
It is finally there our Magento 2 Configurable Products use Simple Details Extension. For years we sell our CPSP extension for Magento 1 and based on that bestseller extension we have created this great Magento 2 successor.
Dynamic attribute updates from simple products
Configurable Products use Simple Details is the ultimate extension because your customers can see all details of a selected option without page reload. The extension automatically updates all product attributes, page URL and also descriptions. Product content will be updated per selected option. After enabling this Best4Mage extension the following fields will update to the value of the simple associated product:
Name
URL
SKU
Stock Status
Min/Max Sale Quantity
Quantity Increments
Short Description
Long Description
More Information
Meta Information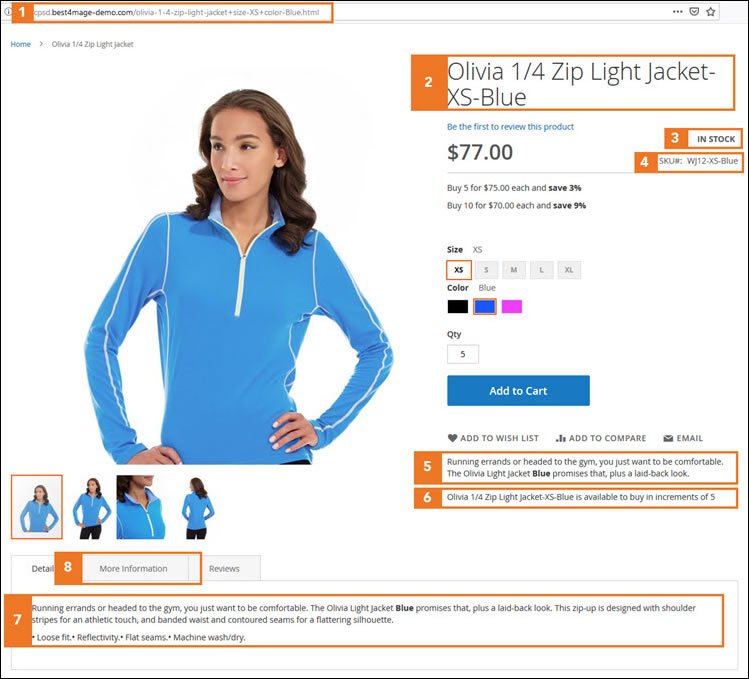 All the above fields can be easily activated in the global settings of the extension. We want it to work with every template therefore we have created an option to set your own selector for each element.
We have paid special attention to the switching of URL and Meta information as a result you will notice an improvement on SEO for configurable products.
Advanced simple product preselection
Boost your sales with our unique user defined preselection option. With this option you can preselect with the following methods:
No preselection
Lowest price of associated products
Specific value set at product level
First available simple product
This unique user defined preselect option enables store owners to present the most outstanding product hence draw customers to the products that you want to sell. 
Generate and use unique SEO friendly URL's for simple products
Configurable Products use Simple Details automatically generates user friendly URL's for the simple products. Using this URL in frontend therefore automatically leads to the configurable product with the options preselected. Of course all with proper meta information, name, sku etc.
Advanced Tier Pricing
Tier pricing for Magento 2 configurable products is not easy to set up for all simple associated products so we have added our advanced tier pricing setup to this extension. Next to that tier prices are by default not based on total of variants in cart but on quantity per simple product. Our advanced Tier Pricing will handle all these issues, you can:
Use specific Tier Price for all simple products. Just select a simple associated product at the configurable product to be used and it will take Tier Prices from there
If you want to use Tier Pricing set at simple products you can define 3 options to use:
- Price of respective simple product (Magento default)
- Highest price of all defined Tier Prices
- Lowest price of all defined Tier Prices
Grid look to highlight your Tier Pricing
Quantity autofill option creates checkboxes in front of Tier Prices when checked quatity is filled in automaticall.
Custom appealing title above the Tier Price grid.
More Information
More Information
SKU
B4M-CPSD
Version
Version 1.0.1 - Minor bug fixes.
Compatibility
CE 2.1.x, CE 2.2.x, CE 2.3.x
Highlights

Dynamic content updates
Dynamic URL
Preselect active attribute
Advanced tier pricing
Adjustable for different templates
Customer Reviews
Most Helpful Customer Reviews
1 person found the following review helpful

Great extension

Great new extension for helping me to get the most out of configurable products.

1 Comment

Thank you for your feedback!

You already voted

Sorry, we failed to record your vote. Please try again

Great extension and Amazing support!

Ordered on Friday and installed the same day! I missed a setting for configuration and support resolved the same day on a Saturday! You cannot get better support that this.
A great extension that does what it says and I would highly recommend it.

1 Comment

Thank you for your feedback!

You already voted

Sorry, we failed to record your vote. Please try again

Finally there, Simple Details for Configurable Products

We have been using the Magento 1 version for this extension for a few years. We recently stepped over to Magento 2 and really missed features for configurable products. Luckily this extension became available. Works great!

Comment

Thank you for your feedback!

You already voted

Sorry, we failed to record your vote. Please try again